RESTORED: 3/23/22: LINK RESTORED 5/5/23
We have become a generation that is totally self absorbed and concerned only with appearances.  I can't believe even men today are spending money on beauty treatments, anti-aging treatments, skin enhancements and youth serums.  At what cost??  Are you so concerned with how nice you will look as you march into HELL??
I tried selling beauty products at one point in time.  On a tour of the factory, I learned that Collagen comes from aborted fetuses and it is in makeup.  That was my first clue.   I have spent my life researching and learning about everything I can.  We are living in a day when you cannot afford to be naive!  You must not just take things at face value!  NOTHING is as it APPEARS!  The devil has turned everything upside down.  Evil is good and Good is EVIL.  EVERYTHING is a LIE.
I will tell you what GOD told me.  If you want to know if ANYTHING is something you should have anything to do with, FIND THE ROOT.   The ROOT is the only thing that matters and EVERYTHING ELSE is a LIE!  A COVER UP.  A DECEPTION!
In this post we are going to look at VANITY.  ALL the things that cause us to become vain were taught to the human race by fallen angels.  Demonic spirits are connected to each of these things.  When you put yourself on the thrown, and life becomes about YOU, you have set yourself up for a fall.  When you start to spend too much time and/or money in any one of these areas or more, you have opened yourself up for demonic oppression and/or possession. The spirits will take you over and you won't even realize they are there.  You will think that you are expressing yourself… in reality the demons are using your body to enjoy those things that they desire!  
Azazel – Taught men to make swords, knives, shields, breastplates, the fabrication of mirrors and made known to them the metals of the earth and the art of working them, the workmanship of bracelets and ornaments, the use of paint, the beautifying of the eyebrows, the use of stones of every valuable and select kind, and of all sorts of dyes and all colouring tinctures, so that the world became altered."   The Book of Enoch; Chapter VIII
The arts taught to man by the fallen angels are being used to bring the fallen back to earth.  As they apply the coloration to these idolatrous carvings, they are restoring life to their image.  
1 Peter 3:3–5, "Your beauty should not come from outward adornment, such as elaborate hairstyles and the wearing of gold jewelry or fine clothes. Rather, it should be that of your inner self, the unfading beauty of a gentle and quiet spirit, which is of great worth in God's sight. For this is the way the holy women of the past who put their hope in God used to adorn themselves."

cosmetic – [ koz-met-ik ] noun

1. a powder, lotion, lipstick, rouge, or other preparation

for beautifying the face, skin, hair, nails, etc.

2. cosmetics,

 

superficial measures to make something appear better, more attractive, or more impressive

:

The budget committee opted for cosmetics instead of a serious urban renewal plan.

adjective
3. serving to beautify; imparting or improving beauty, especially of the face.
4. used or done superficially to make something look better, more attractive, or more impressive:Alterations in the concert hall were only cosmetic and did nothing to improve the acoustics.

conceal – [ kuh n-seel ]  verb (used with object)
1. to hide; withdraw or remove from observation; cover or keep from sight:He concealed the gun under his coat.

2. to keep secret; to prevent or avoid disclosing or divulging:to conceal one's identity by using a false name.EFINITIONS

mask – [ mask, mahsk ] – noun

1. a covering for all or part of the face,

worn to conceal one's identity.

2.

a grotesque or humorous false face worn at a carnival, masquerade

, etc.:

Halloween masks.

3. Also called

swim mask.

 

a device   typically of a transparent glass or plastic panel fitted into a flexible rubber gasket that fits snugly around the eyes, over the cheeks, and usually over the nose: used by skin divers

4.

anything that disguises or conceals; disguise; pretense:

His politeness is a mask for his fundamentally malicious personality.

6. a covering of wire, gauze, etc., to protect the face, as from splinters, dust, or a pitched ball.

8. any protective covering for the face or head.

9. any protective covering, as paper, cardboard, plastic, or the like, used for masking an area of something, as of a photograph or window.

10. the dark shading on the muzzle of certain dogs.

11. a representation of a face or head, generally grotesque, used as an architectural ornament or as a decorative device in weaponry, furniture, etc.

12. a person wearing a mask; masker.

14. Also masque. 

a cosmetic cream, gel, paste, or the like, that is applied to the face and allowed to remain for a short time before being removed

and is used for tightening, cleansing, refreshing, or lubricating the skin.

15.

a piece of cloth, silk, or plastic material covering the face of an actor to symbolize the character being represented:

used in Greek and Roman drama and in some modern plays.

16. the face or head, as of a fox.

17. Electronics

. 

a type of stencil applied to the surface of a semiconductor to permit selective etching or deposition: used in the manufacture of integrated circuits by photolithography.

18. Fortification

. a screen, as of earth or brush,

for concealing

or protecting a battery or any military operation.
19. Also called braker. 

Shipbuilding

. 

a sliding timber construction braced against the stern of a hull being launched to keep it from entering the water too rapidly.

verb (used with object)
20. to disguise or conceal; hide; dissemble: to mask one's intentions.
21. to cover or conceal with a mask.

verb (used without object)
25. to put on a mask; disguise oneself.

hypocrit = someone who conceals themselves
spacer
Makeup is Not a Mask, but a Tool for Self-Expression
spacer
spacer
Let's take a look at the current beauty markets beginnings…
spacer
Like that one woman can get up to $1,500 for her hair.
spacer
OH MAN YOU'VE GOTTA SEE WHAT'S TRENDING ALL OVER YOUTUBE!
Click the link to view the video: https://www.bitchute.com/video/vv3xf2w6InFs/
    CLICK TO WATCH WHILE IT IS STILL AVAILABLE 
 spacer
Leviticus 19:28
Ye shall not make any cuttings in your flesh for the dead, nor print any marks upon you: I am the LORD.
spacer
Scarification is still used at present time, however rarely for religious reasons but instead aesthetically. (You cannot separate the spirit from the ritual. Whether you recognize it or not.  The spirit is where the ritual began, it is the root.)

Using a scalpel to cut an image/design into your skin to eventually turn into a scar produces it. It then needs to heal, although the longer for a wound to heal the more pronounced and obvious it will be. Therefore to achieve this the wounds need to be kept open for a longer amount of time. Abrading scabs and irritating the wound with chemical or natural irritants such as toothpaste or citrus juice will achieve this. Some people will use tincture of iodine, which has been proven to cause more visible scarring 

Scarification may not result in being precise as skin type, cut depth, and how the wound is treated while healing, can alter the outcome. Each part of the body will determine how deep or wide cuts would need to be. Also the scars tend to spread as they heal, so outcome design is usually simple, the details being lost during healing but again differs depending on the person.

Cosmetic Surgical Modification

Ken The Living Doll | My Strange Addiction. (2013).

In the current time many people undergo surgery in order to improve their appearance, and not just because they have defeats but because they do not like the way they look. This is mainly caused due to the 'ideal' image that is portrayed through the media.

Although some people have taken it to the extreme such as Ken the living doll… who has had 125 procedures, that have costed £158,000. His aim is to resemble a doll in his body structure and sees it as the ideal male figure, as stated in the video. He sees his figure as resembling one of a hero. It's interesting to see how some people can get caught up with an image to go to the extreme and put their health at risk.

Un-human

Some people choice to surgically modify their body in order to look less human and go away from 'beauty' as seen in the media. This could include implants under the skin, tongue splitting, tooth filling etc. A lot of the time these people perform in side shows, such as; Lizard man who has sharpened teeth, full-body tattoo of green scales, bifurcated tongue, subdermal implants and recently, green-inked lips. Vampire woman who is covered head-to-toe in tattoos, had dental work to have fangs and titanium horns inserted into her head.
Cheating Darwin: The Genetic and Ethical Implications of Vanity and Cosmetic Plastic Surgery   (excerpts only)
Presented at the conference Human Rights for the 21st Century: Rights of the Person to Technological Self-determination, May 12, 2007
Kristi Scott
Master of Arts candidate in Liberal Studies, University of Southern Indiana
Intern, Institute for Ethics and Emerging Technologies
http://jetpress.org/v20/scott.htm
Abstract
Evolution continually selects the best genes to proliferate the species. Emerging cosmetic plastic surgeries allow us to bypass our genetic code and cheat our naturally predetermined appearances by altering the perceived external flaws and ignoring the intact internal code where the "flaws" remain. Without these self-identified unwanted physical attributes, people who otherwise might not have been perceived as desirable mates for procreation allow themselves to be perceived as desirable enough to pass on their genes. (so this is a form of DECEIT, a LIE, a MASK, a CONCEALMENT.  Sadly we live in a world that is so unnatural, so accustomed to lies, that if you asked most people they would tell you, that doesn't bother them.  As long as it makes you LOOK GOOD to their eyes) TV shows are allowing us to witness the advantages over evolution that can be gained with the right amount of time and money. (If you follow my posts, than you have already read that TIME is MONEY, and MONEY and TIME represent our WORSHIP.) What we see on the outside is not necessarily what we are going to get on the inside, genetically speaking. With more and more people flocking to cosmetic procedures at younger ages, doctors and consumers need to understand and discuss the importance of this dramatic misrepresentation to the opposite sex. While there is a right to undergo the procedures, those who do so prior to having children, and even those who do not, are faced with important affective choices within a number of different relationships that need to be considered for both now and the future.

Genetic effects of CPS

Finally in examining the various relationship, it is pointedly interesting how intertwined all these relationships can become both before and after the decision of CPS. Looking forward, it isn't just the relationships that are and may be affected, but also the genetic effects of CPS. Taking into contemplation, again, the relationships between the individual, the mate/potential mate, and the child, these relationships' genetic effects also require consideration.

In evolution, the fittest and most "desirable" genes are a factor in procreation; those that are least desirable and potentially least fit for the environment are naturally weeded out. With CPS an illusion is created, in the sense that what one sees is not necessarily what one will get in regards to DNA. In the relationship of the individual and their mate/potential mate, there is a responsibility on the part of the individual to disclose any previous CPS. Referring back, genetically it is important to communicate and give a visual reference so that the mate/potential mate is aware of what genetic predisposition they are getting involved in.

This disclosure then opens up for discussion whether or not that attribute that was modified by CPS will be a problem to pass on to potential offspring. In addition, there is a question of how the two individuals will deal with the attribute if it does produce itself in their offspring. As parents, will they raise the child to handle the attribute by acceptance (in contrast to how the parent handled it), or will the child grow up to receive a similar CPS to "correct" the attribute? This decision starts a spiraling decision process of parent to child in dealing with the "undesirable" attribute. Without the availability of CPS, the attribute may have been hindered in procreation, and been naturally weeded out, but with CPS it is given a potential chance to continue on, despite its perceived lack of desirability.

Unlike adoption, where the parent and child also look different from each other, the difference in appearance caused by CPS is elected by the parent because they are unsatisfied with how they see themselves. Addressing this allows the child the opportunity to be adequately equipped with how they are going to deal with these features. Again, this starts a potentially spiral decision process for generations to come, notwithstanding the ever-changing standards in beauty.

Further areas for consideration

As we continue to examine the relationship and genetic effects of CPS, other areas reveal themselves for further consideration: topics such as Ethnic CPS, Egg/Sperm Banks and CPS, and Cosmetic Genetic Modification.

If the decision to change a person's aesthetically cultural appearance continues on the path to normalcy, then we as a society will be faced with a cultural homogenization on the cosmetic level, but not at the genetic level.

Another illustration of the illusion created by CPS is its potential effects upon Egg/Sperm donors who have undergone it. The issue is whether or not there is full disclosure on their part as to what surgery, if any has been carried out. For potential parents who are selecting donors by their photo and profile, what they see may not be what they are getting, genetically, from donors who have undergone CPS. Once again, this raises ethical issues to do with relationships, since a lack of disclosure will create a difference between appearance and what the purchasers are actually getting.

Finally, it should be noted that the same problem would not arise with more futuristic Cosmetic Genetic Modifications(though different problems, perhaps novel ones, may arise), if the genes themselves could be modified to reflect the CPS that was undergone. Merely modifying oneself at the genetic level would not be visible, and the modifications would reveal themselves only in children or in later generations. However, CPS could be carried out to reflect the genetic changes that a person undergoes – so potential mates can see what they're getting. In this situation, cheating Darwin is no longer the problem; rather, there might be a problem with perpetuating what society happens to find most desirable. Again, consideration should be given to the nature of beauty and to the fact that aesthetic ideals are ever changing throughout history. This lesson should be learned before we jump into a form of technology that would doubtless have new effects on human relationships.

Here I would like to bring up the importance of considering a factor that many have overlooked. 

Relationship between the self and physician

The last relationship for examination is that of the individual and their doctor. How does this final relationship interact with the decision for Cosmetic Plastic S Surgery? CPS

Going to a doctor to solve the problem of a perceived physical defect, which in turn is supported by the physician, can contribute to the resolution of conflicts in the relationship of the inner-self or that of the individual/mate. A supportive vote and potential magnification of the problem by the doctor can remedy these relationships or cause further problems.However, this isn't the only reason to consider this relationship, since the relationship with the doctor may not always be in the individual's best interest all the time:

First, that the surgeon-patient relationship in cosmetic surgery is an allegory of the heterosexual relationship; second, that the nearly parodic structure of this particular libidinal economy masks the surgeon's deeper function as conduit between the patient and their idealized image. 

The resulting relationship is in the interest of the doctor, since there are monetary gains on his side of the relationship that may prompt him to magnify any potential problems. Money is a factor that should be consideredin a decision that affects so many different relationships in an individual's life, particularly when the incentive is there for the one performing the procedure. There also may not be enough time between the individual and the doctor to develop a thorough enough relationship to allow the doctor to truly understand the situation. Doctors are aware of what to look for, but the time permitted may not allow them to go over the situation adequately. This is not always the case, but should always be considered.
Those areas all very good points to consider when electing to have cosmetic surgery.  There is another important factor, and that is the nature and motivation of the medical providers who will be involved in the operation.  Not only your surgeon, but any assisting physicians, anesthesiologist, nurses, etc.  The following items should give you some idea of where things can go terribly wrong. 
Richard Watkins/ AJC
A Kentucky woman claims that a doctor branded her uterus with the initials of his alma mater during an operation to remove the organ last year, according to a lawsuit filed Wednesday.

Stephanie Means, a 38-year-old school administrator, alleges that while Dr. James Guiler (picture at left) performed an August 14 hysterectomy at Central Baptist Hospital in Lexington, he "used a cauterizing instrument to intentionally brand the letters 'UK,' approximately 4-5 cm in height, on Plaintiff Stephanie Means's uterus."

Means's lawsuit, a copy of which you'll find here, notes that since she and her husband were apprehensive about the surgery, Guiler filmed the procedure and gave the couple a copy of the videotape, which, the Fayette Circuit Court lawsuit states, "clearly showed the instrument being used to brand Stephanie's uterus."

Guiler, a 1976 graduate of the University of Kentucky College of Medicine, was a sponsor of a 2001 fundraiser benefitting UK's basketball museum. (4 pages)

2/20 UPDATE: Nine more women claim Guiler branded them.
The doctor in charge of the endoscopy that led to Joan Rivers's death last year did take photos of the sedated comedian in the operating room – despite his denial, new court papers reveal.

He has denied capturing images of Rivers's personal doctor, Dr Gwen Korovin, working on the star, while Korovin has lashed out at claims she took a 'selfie' with her client during the procedure.

But now, court documents show that Cohen did actually photograph Rivers at the clinic, where the 81-year-old comedian suffered a cardiac arrest and fell into a coma, from which she never awoke.

According to the papers, obtained by the New York Daily News, anesthesiologist Dr Renuka Bankulla, who was involved in the surgery, admitted in medical records that photos were taken.

According to lawyers for Rivers's daughter Melissa – who is behind the lawsuit against Yorkville Endonscopy – the clinic's director has also provided evidence that Cohen took photos of Rivers.

Director Daniel Adler reportedly admitted in a letter to Melissa Rivers, 47, last October that several employees who were present during the surgery had told him Cohen had photographed her mother.
spacer
spacer
spacer
The Origin of Jewelry   & Jewelry in the Old Testament
excerpts only
Opposition to the wearing of jewelry among the Pentecostal/Apostolic ranks can be
enumerated as follows: (1) jewelry is pagan in origin (2) jewelry is always spoken of in an evil sense in scripture; being associated with pride, harlotry, or idol worship (3) God frowned upon the wearing of jewelry ever since the gold calf incident. Because jewelry always led into sin, God put an end to the wearing of jewelry and is, therefore, forbidden in the NT (4) 1 Tim. 2:9 and 1 Peter 3:3-6 are commandments against the wearing of ornaments, except that of a meek and quiet spirit.

"How, when, where, and more importantly, why was jewelry created? The history of jewelry dates back to the beginning of recorded time, and the dawn of man. Ancient beads that may represent the oldest attempt by people at self-decoration have been identified from sites in Algeria and Israel."

"Jewelry production was a significant craft in the ancient city of UR in southern Mesopotamia, where Abraham and Sarah lived. (UR is the evil city that God called Abraham to come out of, they were Idol worshipers.) Some of the oldest jewelry found is from UR. In Mesopotamian jewelry design, preferred shapes and motifs included leaves, cones, spirals, and bunches of grapes. (all symbols used by the occult) Jewelry was created BOTH for human (ornamentation) use and for adorning statues and idols."iii
"Jewellery is one of the oldest forms of decorative art (art taught to man by the fallen angels.). For the past seven thousand years its history can be traced from the centres of the earliest known civilizations in  Mesopotamia (Iraq) and Egypt (Egypt is representative of EVIL, and we know what Iraq is all about.). A vast amount of jewellery was found in graves in the Sumerian city of UR. The most impressive discoveries were made in some tombs dated about 2500 B.C., usually regarded as royal graves (royalty were either nephilim or their human bloodlines).
No date can be put on the first use of jewellery (we don't have a specific date but we know the occasion, it was when the fallen exchanged the knowledge of making jewelry, of finding gems and precious metals to the humans in exchange for sex with women.) to proclaim the wearer's wealth and social status. At some very early stage in man's history relatively scarce materials began to be selected and fashioned for this purpose. Wealth and rank seem to have been critical to the use of jewellery as personal ornament and, perhaps, as currency in social transactions, such as gift-giving and bride-wealth. 
In Rome the practice of wearing finger-rings for sealing purposes is well documented, and by the end of the 3rd century BC, Roman consuls were wearing signet rings with a distinctive device."iv
"In ancient Egypt both men and women wore jewelry; not only as a symbol of wealth and status, but also for aesthetic adornment, and as protection from evil. The ancient Egyptians placed great importance on the religious significance of certain objects, which was heavily reflected in their jewelry motifs."v
"The love of adornment has been expressed in the wearing of precious stones and the making of jewelry since the beginning of history (no since the fallen angels came down to earth.).
The Israelites probably learned to make jewelry from those under whose dominance and influence they came. The first such people were the Egyptians. (No, the Israelites were influenced to  worship pagan gods while they were captive in Egypt and again in Babylon.  They picked up all kinds of nasty habits, practices and beliefs.)
"In primitive cultures jewelry was used for pagan rituals, to honor a particular deity, or as an offering in sacrificial ceremonies; though SOMETIMES, jewelry was used for nothing more than simple beautification (adornment, self enhancement)."viii
"The Hebrew word nezem signifies a ring and is used both of nose ring and earring. The gold ring in itself was neither good nor bad, but could be used in idolatrous worship (the golden calf), or given to the Lord, or worn as an object of beauty.
The word lahash means an amulet or charm. It is translated as "earring" in Isaiah 3:20. The root means "to whisper" or "to conjure," "to mumble a spell (as a magician)"ix and thus refers to charms of metal or jewels which were thought to have protective powers. Sometimes they were inscribed with magical formulas or were shaped like god-emblems, as among the Egyptians. Images of gods or teraphim were also common amulets.x (amulet – noun – an ornament or small piece of jewelry superstitiously thought to give protection against evil, danger, or disease.) 
Sometimes jewelry AND clothing was worn in worship of idols, but talismanic or amuletic jewelry was manufactured with idolatrous characteristics. So much Egyptian jewellery had a magical significance that is impossible to distinguish the purely amuletic from the ornamental.xi
To protect themselves from hidden malevolent forces, such as poisonous snakes, scorpions, disease, floods or almost any natural disaster, illness, or tangible foe, ancient Egyptians wore amulets, or charms. In order to give an amulet its power, it had to be made and dedicated in strict accordance with the instructions written in the Book of the Dead. Only then, would the appropriate god's spirit live within and energize the amulet. This now sacred object would have to be treated with respect in order for the god to continue bestowing his blessings upon the wearer.xii
By the later stages of the New Kingdom there is a marked increase in the use of amulets and figures of deities as decorative elements in jewellery.


Probably the most ancient purpose of the finger-ring was simply to be decorative, as
the finger-rings from the graves at Ur (c. 2500 BC) would seem to indicate. The rings above are Phoenician (c. 6th cen. B.C.) and represent jewelry of an idolatrous character. The Phoenician style is characterized by the use of motifs derived from Egypt.xiii The cornelian scarab shows Isis suckling Horus, with Osiride figures on either side and a winged disc above. This signet was probably not worn on a finger but attached to a string or necklace. The green glass scaraboid (on left) represents two winged sphinxes on either side of a sacred tree. This ring could be worn on the finger, with the design against the skin, of so desired, to prevent it from becoming damaged.xiv
The Hebrew language differentiates between "earrings" of an idolatrous character [lachash] from those worn for beauty [nezem; agiyl]. The earrings found in Jacob's household (Gen. 35:1-4); those worn by the Ishmaelite men and taken in the spoils in Judges 8:24-26; and Isaiah 3:16-26 were amuletic—involved in the worship of idols. The UPCI claims the Ishmaelites (Iraq)  and Midianites were distinguished from Israelites by their use of earrings and other jewelry,xv but Israelite MEN did not wear earrings, whereas Ishmaelite MEN did. Amulets and other objects common to the magical arts have been found in Palestinian excavations. Magic was practiced in Babylon and also by the Canaanites.xvi
In OT typology idolatry was spiritual unfaithfulness to Yahweh, and Israel was
constantly back-sliding into idolatry. We cannot isolate jewelry from everything else involved in harlotry in this text. Because Jerusalem made images out of the gold and silver jewelry, given to denote wedlock, does not make jewelry a "sin". Had Israel continued in love and fidelity to her husband, Yahweh, all these items the Lord had given her would have continued to be a blessing, beautifying her appearance before the Lord.
Israel and Spiritual Whoredoms
Jeremiah prophesied of God's judgments upon the Jews due to Israel's habitual backsliding into idol worship, and he also TYPES Israel to an adulterous wife. (4:30 "And when thou art spoiled, what wilt thou do? Though thou clothest thyself with crimson, though thou deckest thee with ornaments of gold, though thou rentest thy face with painting, in vain shalt thou make thyself fair; thy lovers will despise thee, they will seek thy life.")
Ezekiel also prophesied of the destruction of Israel, and in chapter 23 speaks of the
spiritual whoredoms committed by Samaria and Jerusalem, typified as two women, Aholah and Aholibah, her sister, who were married to Yahweh (vv4-5) but played the harlot and defiled themselves with idolatry. V30 "I will do these things unto thee, because thou hast gone a whoring after the heathen, and because thou art polluted with their idols." V37
"…with their idols have they committed adultery…" Verses 26, 40, and 42 mention jewelry worn in the context of an adulterous woman but does not mean that wearing jewelry was the trait of an adulteress.
Hosea also prophesied of the desolation of Israel because of their sin of idol worship,
and used the same typology. Hosea 2:2 "Plead with your mother, plead: for she is not my
wife, neither am I her husband: let her therefore put away her whoredoms out of her sight, and her adulteries from between her breasts;" V13 "and I will visit upon her the days of Baalim, wherein she burned incense to them, and she decked herself with her earrings and her jewels, and she went after her lovers, and forgat me, saith the LORD."
Saul & the Daughters of Israel
II Sam. 1:10 "…and I took the crown that was upon his head, and the bracelet that was on his arm, and have brought them hither unto my lord." (v24) "Ye daughters of Israel, weep over Saul, who clothed you in scarlet, with other delights, who put on ornaments of gold upon your apparel."
Isaiah rebukes the women of Jerusalem for their ostentatious display of finery including idolatrous jewelry.  Isaiah 3:16-26 "…In that day the Lord will take away the bravery of their tinkling ornaments about their feet, and their cauls, and their round tires like the moon, The chains, and the bracelets, and the tablets, and the earrings, The rings, and nose jewels, The changeable suits of apparel, and the mantels, and the wimples, and the crisping pins, The glasses, and the fine linen, and the hoods, and the vails."…
spacer
apacer
The social media beauty cult | DW Documentary
excepts only
7.2.1 Hemostasis
Within seconds of skin injury, vasoconstriction occurs to reduce blood loss. As blood spills into the wounded area, platelets come into contact with and adhere to the wall of the injured blood vessels and the exposed collagen within the ECM. This triggers platelets to release cytokines, growth factors, and numerous pro-inflammatory mediators, resulting in platelet aggregation and triggering the intrinsic and extrinsic coagulation pathways. This leads to fibrin clot formation, which seals the disrupted blood vessels, preventing further blood loss. The clot is sustained by the rapid intravascular accumulation of microvesicular tissue factor as microvesicles from white cells are attracted to the platelet surface. Growth factors produced by the platelets initiate the healing cascade. Platelet-derived growth factor (PDGF) initiates the chemotaxis of neutrophils and macrophages, smooth muscle cells, and fibroblasts, while also stimulating mitogenesis of smooth muscle cells and fibroblasts. Transforming growth factor-beta (TGF-b) attracts macrophages into the wound area and stimulates them to produce additional cytokines, including fibroblast growth factor, PDGF, tumor necrosis factor-alpha, and interleukin-1. In addition, TGF-b further enhances the fibroblast and smooth muscle chemotaxis and modulates the expression of collagen and collagenase. The purpose of PDGF and TGF-b is to stimulate a response from the matrix to produce cells in preparation for the rapid deposition of new connective tissue to rebuild the extracellular matrix (ECM). The clinical picture of hemostasis is clearly demonstrated by wounds such as skin graft donor sites which heal by regeneration.
spacer
The blood of innocent babies who are murdered everyday, countless billions, is on your hands!  Not just because you do nothing to stop it.  Not just because you allow the "public servants' to continue to declare that is legal.  But because you are the reason for the abortions!  YOU, are the enduser of the byproducts of these abortions.  You are the income source for these monsters!!
Knowingly or unknowingly, it is no excuse.  We can't get away from it.  They have made certain that EVERY SINGLE ONE OF US is a partaker in their dirty deed.  They put it in our food and drink, they put it in our make up, they have males and females running out to by the latest enhancers… whether that is Human Growth Hormone, anti-aging cream, hand lotions, lip glosses and lipstick, wrinkle reducer… and the list goes on and on.  These products are produced through the blood, tissue, cells and organs of BABIES… little tiny babies.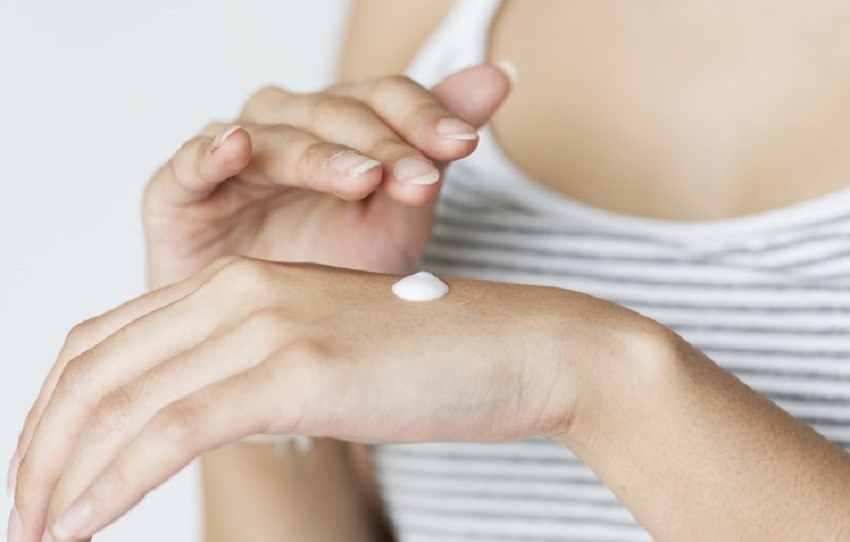 On 7th November 2009, it was reported in Bioedge that a San Francisco cosmetics company, Neocutis, has admitted that it used cells from an aborted male fetus as an ingredient in a beauty cream. (I got news for you, nearly ALL beauty products today have fetal tissue in them.  If no they have some kind of human cell tissue in them.  Collagen is in lotions, and lipstick.  Think about that.  Everytime you apply your lipstick you are putting dead babies on your mouth.  Everytime you apply your hand lotion or your wrinkle cream, you are rubbing dead babies all over you. Of course the cosmetic companies are going to deny it.  Think about how many of the beauty products like anti-aging cream didn't come out until abortion became legal.  And just where do you think the youth hormone, or the Human Growth Hormone come from?) The Swiss product is manufactured from patented processed skin proteins (PSP), and is used for conditions such as psoriasis and eczema, and, unsurprisingly, ageing. The proteins were obtained from a postage stamp-sized rectangle of skin taken from a terminated 14-week old male fetus in Switzerland.

Anti-abortion groups were particularly scandalized by the company's brazenness in defending the use of aborted tissue in beauty creams. Neocutis contends that harvesting the skin cells was responsible and ethical. "The small skin donation" taken to develop this cosmetic treatment "originated from a single terminated pregnancy that could not survive to term and that was deemed medically necessary by the attending physicians." The company compared this use of foetal tissue to the 1954 Nobel Prize, which was awarded to "researchers who utilized fetal kidney cells to develop the polio vaccine."

Now that they have been given the go ahead to use stem cells for research…stem cells are being used for ALL KINDS OF THINGS!  

The PSP is used in Neocutis bio-restorative skin cream, Journée bio-restorative day cream, Lumière bio-restorative eye cream and Bio-gel bio-restorative hydrogel. The Neocutis website says that "Through years of research, physicians [have] discovered fetal skin has a unique ability to heal wounds without scarring."

The moral status of fetal material is widely disputed. For some, as an entry in the American Journal of Bioethics Blog suggests,  fetal proteins in a face cream aren't any different from animal or plant protein because for them the moral status of the aborted fetus doesn't have the moral status to give one concern if consent to both abortion and research took place.
Other allegations

From time to time, the allegation surfaces that abortion clinics are selling foetal bodies to major cosmetic companies so that they may be "rendered" for their collagen. This rumor is persistent and seems to have a life of its own.  (No DUH…if they aren't getting the fetuses from the abortion clinics than where are they getting the fetal tissue for their collagen.  I mean they have to be using an enormous amount of fetal tissue everyday!)

In April of 1980, guards at the Swiss-French border intercepted a Central European truck loaded with hundreds of pounds of frozen aborted preborn babies which, according to the accompanying bills of lading, were destined for several French cosmetics factories for processing into expensive cosmetics. Gazette du Palais (French Legal Journal)

The French newspaper explained that such trafficking in foetal remains is brisk, because they are used in "… beauty products used in rejuvenating the skin, sold in France at high prices.

"One seller, Madame Renne Ibry, advertises that her beauty products – which include fetal collagen – are "absolutely natural." Claude Jacquinot.Gazette du Palais, Numbers 98 and 99; Wednesday, April 8th, 1981, and Thursday, April 9th, 1981.The actual brochure boasts about how the use of foetal collagen can "rejuvenate" skin and is translated from the French as shown below.  This below is the text of advertisement circulated by a French company using aborted babies in cosmetics. It includes a description of what the cosmetic can do:

Tarif [price list] AU 1ER Avril 1980 Californie esthetique [California Beauty], Registre des Metiers, 697210 169 RM 06, Registre de Commerce 72 A 16

Centre Henri Chenot Madame RENEE IBRY, 85 avenue Marechal-Juin, 06400 CANNES Tel.43.85.54

Beauty by Cold

This revolutionary treatment of cellular regeneration uses cold technology. Because of the labors of Dr. Alexis Carrel, we know that young cells applied to old tissues are able to regenerate them. These cells are all the more effective if they are living. This technique consists of 'splintering' or 'chipping' fresh cells, the DNA and RNA life carriers. Taken exclusively from human foetuses, these cells, no longer independent, do not carry antibodies under any circumstances. This reduces to a minimum any risk of allergic reaction.

Absolutely natural, this product is made for use at home
Red stick: placenta of the foetus and foetal spleen, liver, and thymus
White stick: liquid polyvalent [drawn from intestinal membranes]. In the box: red or white bottles
and from another source: 
Collagen products are popping up everywhere. While collagen is probably most well known for its touted skin care benefits and as a major component of lip enhancers and injections, some celebrities, like Kourtney Kardashian, are suggesting that people drink it. Products derived from collagen are not just in skin creams and dietary supplements but even in pillow covers and clothing. Kardashian is even sellingcollagen supplements.

Because our bodies begin to lose collagen in our 20s, skin creams and treatments made from the connective tissues of animals (human fetuses) seem like an effective way to combat age. And, it has few side effects.

The benefits wear off if you stop taking it.     Source
spacer
OK, I don't know about you, but I can't take anymore talking about what they are doing with live fetuses…  Let's move on to what is happening in the fashion industry.
I am 67 years old and I have lived through a lot of changes.  I have seen fashion from the bizarre to the horrific.  There for a while, when women's lib was just getting strong they used to encourage working women to be FIERCE even FRIGHTENING.  I remember some of the GOD AWFUL outfits they used to push.  And men, they told men at one point that women only loved the "Bad BOYS" and to be sexually attractive they had to look dangerous.  Like scars on their faces and/or bodies and leather and chains and bulging muscles.  More recently they have developed the Metro Male…who manicures his nails and shaves his body hair, gets his hair styled at the salon.  And women, with all their screaming about women's lib… they have women dressing like two bit whores.  They say they don't want to be seen as objects, but they walk around displaying their wares openly and jirrating, sticking their butts in the air… it is ridiculous!   Anyway… let's take a look at the industry today…
spacer
spacer

spacer
CHRISTIAN DIOR'S FREEMASON FASHION SHOW…
spacer
spacer
spacer
spacer
TODAY, as I am researching to find ways to restore this post, I find that there were a lot of things I missed in my origianl post.  I never was into fashion.  I always thought that fashion shows were ridiculous and certainly they were not presenting their creations for the public to wear.  Who would wear that stuff.  Certainly in the last 20 or 30 years it has appeared that the Fashion Designers hated women!!  The Fashion shows have gotten progressively more bizar and even downright frightening.
THIS particular GUCCI Fashion Show seems to the Ruling Illuminated Elite to be particularly sensitive.  They have worked hard to CENSOR it and keep it from public scrutiny.  Now that I have spent so much time saving the pics and reposting them… it has become very clear to me why.
spacer
spacer
REVIEW THE REST OF THIS SERIES BELOW: