Why on earth would ANY NATION TOLERATE THIS??  Especially in these times when the threat of WAR is all around us.  THIS IS A SERIOUS BREECH OF SECURITY!!  IT MUST BE ELIMINATED IMMEDIATELY!!!  THIS IS NO JOKE!
How did they get here??  How are they moving about freely in our Country??  SO much for Homeland Security.
Do you think that China would allow other nations to set up and operate police stations in their Country????
Instead of watching for folks without facemasks or Vaccines,  we should be diligently watching for FOREIGN POLICE and MILITARY on our own SOIL!!!   SEE THIS AND SAY SOMETHING!!!!
It is not just the Chinese Police on American soil.  China has been taken control of all kinds of things here in the USA.  We have not been paying attention.  Whether they are doing this covertly unbeknownst to our leaders or they are doing it with their consent… IT MUST BE STOPPED.
It is time that we bite the bullet.  What are our priorities?  Yes, it will be difficult to re-establish our independence as a nation.  But, it certainly can be done.  We have enough resources and manpower to rebuild our infrastructure and re-establish our security.  We certainly have enough money to spend on things like exploring outer space,  studying the mating habits of the tree frog, and creating the technology that will make us obsolete.  What if we invested that money in the things that really matter hear and now for our survival??
Sep 28, 2022  In a major revelation, Canadian local media reported that China is now opening illegal police stations across the world to promote its vested interests. Citing the reports of local media, Investigative Journalism Reportika, said that the President Xi Jinping-led Beijing government has opened numerous police stations in developed nations too.
Beijing's law enforcement tactics beyond its borders are under scrutiny after a report revealed dozens of cities—including New York—were hosting Chinese overseas police stations.
A pilot program run by the public security bureaus of Fuzhou and Qingtian counties—of coastal Fujian and Zhejiang provinces, respectively—had established 54 "overseas police service centers" across five continents, 25 cities and 21 countries as of June 21, according to Spain-based NGO Safeguard Defenders.
The overseas service stations were created in the name of combating transnational crime, especially telecommunications fraud, which has already seen the arrest of a large number of Chinese nationals living abroad. Their stated tasks also include the provision of administrative services, such as the renewal of Chinese driver's licenses, the report said.
Safeguard Defenders said China's policing tactics were problematic as they targeted suspects without firmly establishing links to crime or adhering to due process in host countries, chiefly by coercing the family members of alleged fugitives as a means to "persuade" them to return on their own.
Between April 2021 and July 2022, Chinese authorities arrested 230,000 suspects this way, the majority from Southeast Asia, the NGO said.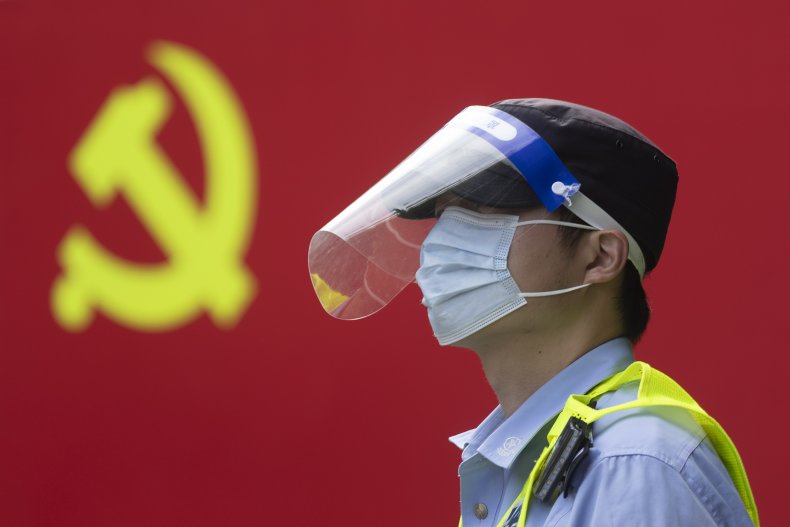 In the United States, the report's open-source data indicated one such service center in New York City. In Canada, three were established in Toronto.  (how safe does it make you feel that this was not discovered by any of the multiple 3 Letter Agencies, or any of the thousands of "police" forces/departments but by a foreign NGO agency??)
In South America, there was one each in Quito and Guayaquil, Ecuador; Rio de Janeiro and São Paulo, Brazil; Buenos Aires, Argentina; and Viña del Mar, Chile.
Most of the Chinese overseas police stations were located in Europe, including nine in Spain, the most of any country on the list: three in Madrid, three in Barcelona, two in Valencia and one in Santiago de Compostela.
Italy was hosting the second-most stations in Europe with four: Rome, Milan, Florence and Prato.
In France, three service centers were operating out of Paris. Portugal also hosted one each in Porto, Lisbon and Madeira. In United Kingdom, the report found two in London and one in Glasgow.
The Netherlands was hosting two such centers in Amsterdam and Rotterdam, respectively, while the Czech Republic had two in Prague. Budapest, Hungary, also had two, one for each of the Fuzhou and Qingtian police bureaus—a common phenomenon across Europe.
European countries each hosting only one Chinese police station included Dublin, Ireland; Bratislava, Slovakia; Frankfurt, Germany; Athens, Greece; Stockholm, Sweden; Vienna, Austria; Odessa, Ukraine; and Belgrade, Serbia.
In Africa, Benin City, Nigeria; Maseru, Lesotho; and Dar es Salaam, Tanzania, each hosted one.
In Asia, at least one police center was operating out of Ulaanbaatar, Mongolia; Sirdaryo, Uzbekistan; Bandar Seri Begawan, Brunei; Tokyo, Japan; and Phnom Penh, Cambodia.
Safeguard Defenders' September report, 110 Overseas, said the open-source figures represented a partial list of activities linked only to the two police bureaus, and that there were likely many more associated with the police of other major Chinese cities.
The overseas stations are often embedded in overseas Chinese community associations, the report said. The number 110 dials the police in China.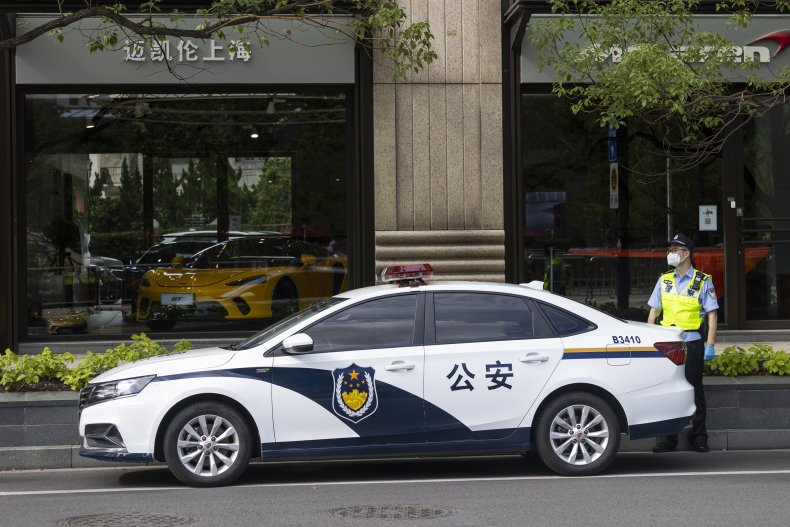 A more concerning factor of Chinese police operations on foreign soil, however, is Beijing's targeting of political dissenters and others likely to be subject to persecution once "persuaded" to return home, said the NGO.
"Persuasion to return" allows the authorities to skip juridical protocol such as protecting the target's right to a fair trial, it said.
"These operations eschew official bilateral police and judicial cooperation and violate the international rule of law, and may violate the territorial integrity of third countries involved in setting up a parallel policing mechanism using illegal methods," the report said.
"Abandoning any pretext of due process or the consideration of suspects' innocence until proven guilty, targeting suspects' children and relatives in China as 'guilty by association' or 'collateral damage,' and using threats and intimidation to target suspects abroad, is now itself becoming an endemic problem," it said.
"Whether the targets are dissidents, corrupt officials or low-level criminals, the problem remains the same: The use of irregular methods—often combining carrots with sticks—against the targeted individual or their family members in China undermines any due process and the most basic rights of suspects," Safeguard Defenders concluded.
Earlier in October, Spanish newspaper El Correo corroborated some of the NGO's concerns when it quoted an unnamed Chinese diplomat as saying: "The bilateral treaties are very cumbersome and Europe is reluctant to extradite to China. I don't see what is wrong with pressuring criminals to face justice…"
In January, in response to another Safeguard Defenders report, the Chinese Foreign Ministry said: "China's judicial and law enforcement authorities strictly abide by international rules, fully respect the judicial sovereignty of other countries."
A spokesperson said the NGO's findings were "rife with speculation and lies."
A group of House Republicans expressed their "grave concern" over the report in a letter dated October 7 and addressed it to Secretary of State Antony Blinken and Attorney General Merrick Garland.
"It is deeply troubling that the Chinese government could use these service stations as its long arm policing abroad," they said.
The service centers "coerce purported Chinese fugitives abroad to return to China to face legal proceedings," the letter read. "By doing so, China avoids scrutiny on its human rights record in relation to repatriating alleged fugitives overseas by eschewing formal international cooperation mechanisms."
On the New York City branch in particular, the congressmen requested response to questions including whether the departments of State or Justice had approved the police presence.
"There should be no room for the Chinese government to exercise extraterritorial law enforcement unilaterally on U.S. soil," they said.
The State Department and the office of New York City Mayor Eric Adams didn't return Newsweek's request for comment before publication.
China's reported transnational policing will 'escalate very quickly' unless governments take action
China's reported overseas police service stations and their operations to persuade citizens to return to the homeland mark a dangerous expansion of the regime's international reach, according to a human rights advocate.
Safeguard Defenders, a pan-Asian human rights organization, published an investigation last month  detailing a Chinese campaign to combat "fraud and telecom fraud" crimes committed by its citizens living abroad. The report indicated that the Chinese Communist Party (CCP) has established at least 54 police stations across 30 different countries, including the U.S.
"I think it shows how brazen the CCP is getting and how little regard they have for other governments," Laura Harth, Safeguard Defenders' campaign manager, told Fox News. "It's in violation of international law, it's in violation of territorial sovereign."
The police stations are mostly located in Western Europe, but four are in North America, including one in New York City, according to the report. They allow Chinese authorities to "carry out policing operations on foreign soil," Hart said.
DOUGLAS MURRAY ISSUES STARK WARNING AFTER CHINA'S ELON MUSK THREAT: THEIR VISION IS 'ABSOLUTE HELL' FOR US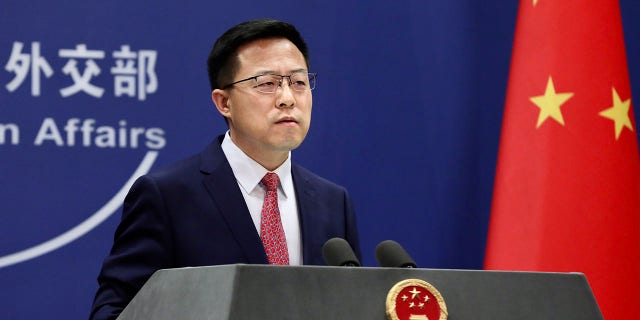 "Obviously this shows how unaware, how naïve certain governments are, or choose to be at this stage," Harth told Fox News. "European authorities are severely lacking in awareness and willingness to act on or even look into it."
Since the campaign launched in April 2021, 230,000 Chinese nationals have been "persuaded to return" home to face criminal prosecution, according to the Ministry of Public Security in China.
"A big part of this transnational policing repression campaign is also aiming at silencing the community, silencing dissent, making sure that people are afraid enough," Harth told Fox News.
Some reported tactics used to compel Chinese nationals to return include threatening and intimidating family members in China. A suspect's children can be banned from attending school, and their family's bank accounts can be frozen and their property confiscated.
US WARNS ABOUT FOREIGN EFFORTS TO SWAY AMERICAN VOTERS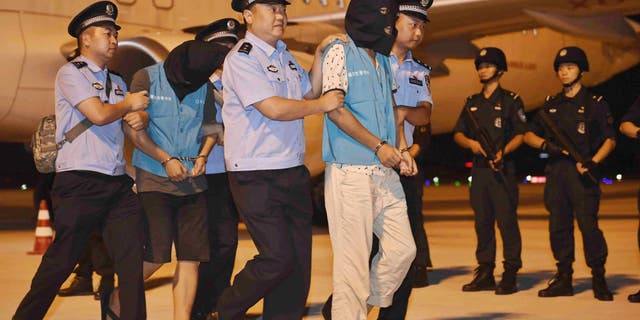 "They will interrogate people, maybe detain people," Harth said. "There's also guilt by association. There are accounts of people being prosecuted or arrested for the presumed charges against their family members" abroad.
China will "do anything really to convince them to persuade their family members to come back," she added. "Nothing seems to be too impressive or too harsh" for the CCP.
If those tactics fail, the CCP will deploy its international officers to directly approach the suspect as a means of "persuasion," according to Harth.
"That's a clear message to anyone seeking to leave China, already having left China, that you're not safe anywhere," she said.
CHINA STILL BENEFITS FROM RUSSIA RELATIONSHIP, EVEN WITH INTERNATIONAL REPUTATION AT RISK: EXPERTS
China's reported extradition missions operate without knowledge or approval from the local government, Harth told Fox News.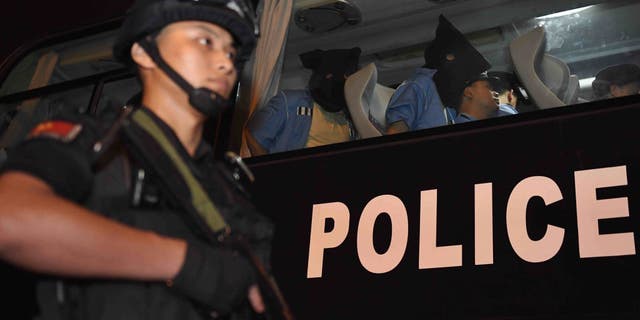 "This is obviously completely illegal. This is no regular international police cooperation," she said. "These have been set up without any knowledge of local authorities, without any requests."
The Chinese government has claimed that the stations provide services to its citizens living abroad, like renewing IDs and driver's licenses, the Chinese embassy told The Irish Times. While that may be true in part, Harth said, the stations are largely used to enhance China's overseas law enforcement capabilities.
"We know that they're building on an existing network of United Front work organizations," Harth said. "This may escalate very quickly, if not stopped right at the beginning."
DOJ hints at shutting down Chinese 'police' on US soil after espionage charges
The DOJ announced espionage-related charges against multiple Chinese spies on Monday and hinted at more actions, leading to speculation that it will remove all Chinese "police" stations in the US – like the three in Toronto. 
"In three separate cases in the U.S. Attorneys' Offices for the Eastern District of New York and the District of New Jersey," their website reads, "the Justice Department has charged 13 individuals, including members of the People's Republic of China (PRC) security and intelligence apparatus and their agents, for alleged efforts to unlawfully exert influence in the United States for the benefit of the government of the PRC."
One incident involves Chinese spies intimidating and harassing an expat to return home to China.
Additionally, two spies remain at large but have been charged with attempting to obstruct a criminal prosecution in Eastern New York.
"The defendants believed they had recruited a US employee as an asset. But in fact, the individual they recruited was actually a double agent working on behalf of the FBI."
"This was an egregious attempt by PRC intelligence officers."
Other charges were for Chinese spies "masquerading" as professors who tried to steal sensitive documents.  
"These cases highlight the threat the PRC government poses to our institutions and the rights of people in the United States," the DOJ stated.
The DOJ further suggested more actions will come, leading to speculation that Chinese "police" stations (as in multiple stations they already know exist) in the US will be shut down.
Last month, Fox News reported that China has 54 different "police" stations in 34 countries, including Canada and the US.
Earlier this month, The Counter Signal reported on Chinese dissidents in Canada demanding the Canadian government take action against the police stations.
Co-founder and trustee of Hong Kong Watch, Aileen Calverley, said she's "frightened" because there are Chinese police where she lives in Milton, Ontario.
Witness testifies on Chinese police stations operating in Canada:

"They are openly doing that because there is no legislation, nothing to deter them, nothing to punish them. They can intimidate people like us. I've been living in Canada for many decades. Now, I feel frightened." https://t.co/r1U4ltqlYs pic.twitter.com/X4xViwd3Ig

— The Real Andy Lee Show (@RealAndyLeeShow) October 5, 2022
"There's no legislation," Calverley stated. "There's nothing to deter them. Nothing to punish them." 
"So I think Canada really needs to look into this. Because they are Chinese police. So they should be considered as agents." (spies)
spacer
The communist dictatorship of China has now reportedly set up "overseas police service stations," including in the United States, to monitor Chinese citizens living abroad. One such location is in New York City, and three in Toronto, Canada.
"As these operations continue to develop, and new mechanisms are set up, it is evident that countries governed by the standards set by universal human rights and the rule of law urgently need to investigate these practices to identify the (local) actors at work, mitigate the risks and effectively protect the growing number of those targeted," the report concludes.
spacer
Chinese secret police and their agents are stalking, harassing, intimidating, and conspiring to commit violence against pro-democracy activists and Chinese dissidents on U.S. soil, according to three new criminal cases unsealed by the Department of Justice (DOJ) on March 16.
The efforts include a plot to interfere in a Congressional election, covert attempts to arrest enemies of the Chinese Communist Party, and surveillance operations to spy on anti-communist activists.
"These cases expose attempts by the government of the People's Republic of China [PRC] to suppress dissenting voices within the United States," said Assistant Attorney General for National Security Matthew Olsen during a press conference, referring to the Chinese regime's official name.
"They demonstrate how the PRC seeks to stalk, intimidate, and silence those who oppose them."
Five individuals were charged in relation to schemes to harass and spy on ethnic Chinese in the United States critical of the communist regime.
An Alleged Plot Against a Congressional Candidate
In one of the cases, federal prosecutors said that Lin Qiming, an alleged Chinese agent, contracted a private investigator (PI) in New York to manufacture a political scandal in the hopes of undermining the Congressional campaign of Yan Xiong, who is currently seeking the Democratic nomination to run for Congress representing a district in Long Island.
Yan is a naturalized American citizen and Army veteran who served two tours in Iraq. He has long been a target of the Chinese Communist Party (CCP) for his participation as a student leader in the 1989 Tiananmen Square protests and for his later support of pro-democracy protests in Hong Kong.
Lin's arrest warrant details his efforts to use a private investigator to implicate Yan in prostitution, tax evasion, and possession of child pornography. Failing that, Lin encouraged the PI to physically harm Yan by either beating him or forcing him into a car accident.
"If you don't find anything after following him for a few weeks, can we manufacture something," Lin said in one recorded call, according to the court document.
"But in the end, violence would be fine too," Lin said in a voice message. "Beat him. Beat him until he cannot run for election."
The warrant said Lin was a retired Chinese intelligence agent who continued to perform work for the Chinese Ministry of State Security (MSS), the regime's top intelligence agency.
Lin also suggested that the PI hire an attractive woman to become a volunteer for Yan and then implicate him in prostitution. When the PI told Lin it would cost $40,000 to carry out the job, Lin responded, "No problem. The money is not a problem."
Lin further encouraged the PI to use "cops, or lawyers, or the courts" to put pressure on Yan and said, "We will have a lot more of this in the future," according to the court filing. He added, "Right now we don't want him to be elected."
Despite assuring the PI that money was not an issue, however, the CCP's bureaucracy apparently interfered with the effort, and Lin later told the PI he couldn't get the $40,000, the court document said.
"Because the Communist Party, as you know," Lin said, "it's not just one person who can call the shots."
Targeting Chinese Dissidents
In another case, spanning from January 2021 to March 2022, Liu Fan, Matthew Ziburis, and Sun Qiang allegedly conducted a campaign of harassment and intimidation against Chinese dissidents and pro-democracy activists living in America, according to the Justice Department.
The campaign involved gathering derogatory information on dissidents in order to humiliate or otherwise discredit them in the eyes of the public.
Like the Lin case, those involved allegedly relied on private investigators whom they hired to stalk, surveil, and intimidate ethnic Chinese living in America, ultimately spending over $100,000 in the process.
The scheme, the DOJ said, included attempted bribes to Internal Revenue Service officials in order to obtain dissidents' tax information, and a conspiracy to destroy a sculpture that depicted Chinese Communist Party leader Xi Jinping as a coronavirus molecule.
In one instance, the defendants conspired to use Liu's business, a New York-based media corporation, to gain access to interviews with tags while posing as journalists, according to court documents.
In one message, Liu told the others to say they were employed by "a very rich Jewish man [and] head of [the] Jewish community," the court filing said, and told them to imply that this fictitious Jewish man was a large donor to House Speaker Nancy Pelosi's political campaigns.
The DOJ's third case alleged that Wang Shujun, a naturalized U.S. citizen and former visiting scholar, compiled information on pro-democracy activists and Chinese dissidents living in the United States and disseminated it to the MSS.
According to the case file, Wang, 73, was a long-time member of the Hu Yaobang and Zhao Ziyang Memorial Foundation, a pro-democracy group based in Queens, New York.
From January 2016 through August 2021, however, Wang is alleged to have secretly operated as a CCP agent, using his position in the foundation to collect private information on activists which he then delivered to his handlers in the Chinese regime.
At least one person whose information Wang gave to the MSS was later arrested by the CCP when traveling to Hong Kong, according to prosecutors.
'Transnational Repression'
The three cases come just a month after the Biden Administration's decision to terminate the Trump-era "China Initiative," an anti-espionage campaign that critics accused of racially profiling Chinese Americans.
Olsen said that the new cases were part of the Justice Department's new nation-state-oriented approach, and that the department would defend the nation against repressive efforts by the Chinese communist regime to violate America's sovereignty.
"For the Justice Department, defending American institutions and values against these threats is a national security imperative," Olsen said. "Transnational repression is part of the range of tactics that our adversaries employ to try to undermine our democracy, our economy, and our institutions.
"This activity is antithetical to American values. We will not tolerate such repression here when it violates our laws."
Likewise, Breon Peace, U.S. Attorney for the Eastern District of New York, noted that each of the new cases dealt with efforts by the Chinese regime to explicitly target supporters of democracy, and especially ethnic Chinese who were critical of the communist regime that currently rules the mainland.
"All of these victims were targeted because of their pro-democracy views, because they chose to exercise their freedom of speech here in the United States," Peace said.
"The complaints unsealed today reveal the outrageous and dangerous lengths to which the PRC government's secret police and these defendants have gone to attack the rule of law and freedom in New York City and elsewhere in the United States."
Three of the defendants were arrested over the past two days, while Sun and Lin remain at large.
A Chinese police station set up to spy on the country's nationals in Lower Manhattan is run by a US charity that is on an IRS blacklist, The Post has learned.
The non-profit America ChangLe Association NY Inc. owns and operates the "service station" located above a noodle shop on the third floor of 107 East Broadway on the Lower East Side, according to public filings.
In May, the IRS yanked the group's tax-exempt status for its failure to submit tax filings for three straight years, according to public records.
The non-profit, which was incorporated in New York in 2013 and listed its charitable mission as a "social gathering place for Fujianese people," paid $1.3 million three years later for the suite of offices that houses the Fuzhou Police Overseas Chinese Affairs bureau, filings show.  (SO, in operation since 2013, official POLICE STATION as of 2016)
The Manhattan station is part of a web of more than 100 such law enforcement offices set up around the world by the People's Republic of China, ostensibly to help Chinese nationals renew their government-issued identification and drivers' licenses.
But the stations have more "sinister" purposes, such as spying on the Chinese diaspora for the Chinese Communist Party, according to a recent whistle-blower report.
"Openly labeled as overseas police service stations … they contribute to 'resolutely cracking down on all kinds of illegal and criminal activities involving overseas Chinese,'" according to a September report by Safeguard Defenders, a Madrid-based human rights group that documents Chinese repression around the world.
The stations also participate in "intimidation, harassment, detention or imprisonment" to spy on dissenters and return migrants, according to the report.
In addition to New York, Safeguard Defenders found two Chinese police stations in Paris, three in Toronto, two in London and five scattered in the Spanish cities of Madrid, Barcelona and Valencia. The report accuses these stations of involvement in forcibly "returning" more than 200,000 overseas nationals to China.
The news of the Manhattan-based Chinese police station was greeted with outrage from Republican lawmakers Friday, who sent a letter to US Attorney General Merrick Garland and Secretary of State Antony Blinken, according to a report.
"The Department of Justice and State Department must explain why the Biden administration has allowed CCP police to set up an office on US soil," said Republican Study Committee chairman Jim Banks of Indiana in a statement to Fox News.
A spokeswoman for Safeguard Defenders called the overseas stations a violation of international law and territorial sovereignty Friday.
"I think it shows how brazen the CCP is getting and how little regard they have for other governments," Laura Harth, Safeguard Defenders' campaign manager, told Fox News.
A US government watchdog condemned the use of the Manhattan non-profit as what it framed as a front for the police station.
"The use of an off-the-books cultural non-profit is a cynical ploy that weaponizes American values of community and cultural identity to covertly attack and harass innocent people is something all of our elected officials need to focus on and allocate resources to put an end to," said Tom Anderson, director of the Government Integrity Project at the National Legal and Policy Center, a Virginia-based government watchdog group.
Calls to America ChangLe Association NY Inc's president Harry Lu were not returned this week.
The non-profit listed donations of $135,950 and total assets of $1.1 million on its 2018 filing to the IRS — the last one it apparently filed.
In order to keep a better watch on Chinese nationals living abroad, Chinese government authorities have opened an "overseas police service station" in New York City, as first reported by the human rights organization Safeguard Defenders.
Officially, the branch in New York City was established by the Public Security Bureau in Fuzhou, the capital city of the Fujian province. Other provincial governments in China have organized police branches in numerous foreign cities.
In a report entitled "110 Overseas: Chinese Transnational Policing Gone Wild," Safeguard Defenders took a deep dive into the specifics of the initiative, discovering that the plan began with stations being set up by 10 "pilot provinces" in 2018. These stations also are called 110 Overseas, 110 being the Chinese equivalent of 911.
"These operations eschew official bilateral police and judicial cooperation and violate the international rule of law, and may violate the territorial integrity in third countries involved in setting up a parallel policing mechanism using illegal methods," the Spain-based NGO writes in its report.
For its part, Safeguard Defenders knows firsthand about the power of the Chinese Communist Party (CCP). Safeguard Defenders' predecessor, China Action, was forced to close in 2016 after Chinese authorities targeted it in a violent crackdown resulting in the detainment, death, and disappearance of many of the group's key staff members.
The CCP-affiliated police station set up in Manhattan was one of the "first batch" of 30 overseas police service stations established in 21 countries, with operations beginning on February 15, according to Chinese news reports controlled by the Fujian government. The office in New York City is officially called the Fuzhou Police Overseas Service Station and is physically located on Broadway, sharing space with American ChangLe Association (ACA), a separate NGO, itself affiliated closely with the CCP.
As remarkable as it sounds, given that this police station is located literally within the territory of the United States, how many such stations might be operating within the United States is unknown.
"There is no complete list of such '110 Overseas' police service stations available, the Safeguard Defenders report reveals. "The number is undoubtedly larger and such stations more widespread."
As for ACA, it began in 1998 and is aimed at influencing the government of the United States to officially recognize Taiwan as part of a unified China.
The ACA in Manhattan is merely a grassroots front for the Chinese communist regime and is in reality a powerful piece of the CCP's "united front" system. The "united front" is an umbrella term for the thousands of branches set up by the Chinese government to lobby for CCP interests and to exert influence over the foreign policy of countries where the regime has extended its physical reach. Of course, the unspoken but undeniable purpose for the "united front," the ACA, and the New York City-based police force is to identify and suppress Chinese dissidents living overseas, including those living in the United States of America.
The strength of the ties of the ACA to the CCP is not hidden by the group. In fact, on the ACA website, there is a letter from the Chinese consulate recognizing the work of ACA in facilitating the visit of Xi Jinping to New York City in 2015.
Of course, officially the CCP line is that all of the overseas police stations — including the one in New York City — exist solely for the purpose of helping Chinese nationals living abroad to feel the "care and love" of their homeland, as asserted by ACA Chairman Lu Jianshun in an interview with Chinese outlet, Dongnan News. Of interest in the story is that Lu is named as a member of the staff working at the Manhattan station.
"Care" and "love" are not two words typically associated with the CCP specifically or the ruling regime in general. In August, a report revealed that the Chinese government's "arbitrary and discriminatory detention" of Uyghurs and other Muslims in its Xinjiang region may constitute crimes against humanity. In other words, same old, same old.
As for the particular policies being surreptitiously carried out by the Chinese police presence in New York City, the Safeguard Defenders report points to a purpose other than the "care and love" of Chinese nationals living abroad.
The hidden agenda of these CCP-affiliated police stations is to "resolutely [crack] down on all kinds of illegal and criminal activities involving overseas Chinese," the report reveals. There are stories of other stations being "implicated in collaborating with Chinese police in carrying out policing operations on foreign soil," the group said.
Of course, this sort of personal intimidation by Chinese police on American soil is reprehensible. The Safeguard Defenders exposé additionally claims that the stations exist to persuade Chinese nationals to return home to their families.
"These methods allow the CCP and their security organs to circumvent normal bilateral mechanisms of police and judicial cooperation, thereby severely undermining the international rule of law and territorial integrity of the third countries involved," the report reveals.
"It leaves legal Chinese residents abroad fully exposed to extra-legal targeting by the Chinese police, with little to none of the protection theoretically ensured under both national and international law."
This circumvention of international law by the Chinese Communist regime must not be tolerated, particularly within the territory of the United States. Furthermore, the activities of the ACA and the Chinese police stations should be immediately exposed and all officials working with these groups should be expelled by the Biden administration.
To that end, Representatives Michael Waltz (R-Fla.) and Mike Gallagher (R-Wis.), along with Republican Study Committee Chairman Jim Banks of Indiana, have reportedly sent a letter to Secretary of State Antony Blinken and Attorney General Merrick Garland demanding to know how the Fuzhou police were able to open a branch of that force in New York City.
Banks said in a statement to Fox News Digital that "the Department of Justice and State Department must explain why the Biden administration has allowed CCP (Chinese Communist Party) police to set up an office on US soil." He continued, "When Republicans take back the House, we will hold the Biden administration accountable for their continued efforts to aid and abet the Chinese Communist Party," as reported by Fox News.
As of the time of writing this story, neither the White House nor any of the Biden administration agencies have commented on the physical presence of a Chinese-regime affiliated police station in the United States.
spacer
Rep. Michael Waltz, R-Fla., told Fox News Digital it is "mind-boggling that we are allowing China's Fuzhou police to operate on American soil.
"The Chinese Communist Party uses these stations to go after political dissidents abroad, while also endangering the national security of the United States," Waltz said in a statement. "We must protect the American people and Chinese freedom activists from the CCP's gross abuse of the American justice system," he added.
Rep. Mike Gallagher, R-Wis., in a statement warned that the Chinese Communist Party "has used Fuzhou overseas police service stations to push propaganda and spy on Chinese citizens abroad."
"The presence of one of these stations in New York City not only raises serious human rights concerns, but also raises concerns about whether the United States is allowing a hostile foreign adversary to conduct its own law enforcement activities within our borders," he said.
"The State Department must divulge the extent of their knowledge of this station, its actions against American-Chinese citizens and communities, and the threat it may pose to our national security," he added.
The IRS in May pulled the group's tax-exempt status for its failure to submit tax filings for three years, according to public records.
ChangeLe Association NY Inc., which was incorporated in New York in 2013, paid $1.3 million three years later for the suite of offices that houses the Fuzhou Police Overseas Chinese Affairs bureau, the New York Post reported.
230,000 prisoners returned to China through these stations, against their will.
spacer
China has illegally opened at least two "police stations" in the Netherlands since 2018 in an attempt to pressure Chinese dissidents, RTL Nieuws and Follow the Money revealed Tuesday.
The so-called overseas service stations offer diplomatic services to Chinese Dutch citizens, such as renewing their driving licenses — but they also attempt to silence Chinese dissidents in Europe, the media outlets reported, citing a Chinese victim named Wang Jingyu.
Wang told Dutch journalists his story, saying that he fled to the Netherlands after he was followed by police in China for criticizing the regime on social media. But when he arrived, the Chinese police station in Rotterdam asked him "to go back to China to solve my problems," adding that he should also consider his family.
"These agencies are illegal," a spokesman from the Dutch foreign ministry said, adding that the government is going to investigate and take "appropriate actions."
While the Chinese embassy told reporters that they are not aware of the existence of the stations in Amsterdam and Rotterdam, the Dutch media outlets point to Chinese reports according to which a senior embassy official was present at a meeting where the establishment of the Amsterdam outpost was discussed.
The revelations come after a Spanish human rights organization — Safeguard Defenders — released a report in September on Chinese police stations abroad.
According to the report, Chinese authorities have "established a series of overseas police 'service stations' across five continents, but mainly in Europe. These provide administrative services, but have also been active in 'covert and illegal policing,'" the organization stated.
Wilhelmine Preussen / www.politico.eu
spacer